You've visited
our 'hood
. Now I'll let you in on where we sneak sweets when no one's looking.
Beaverdale Confections is a local small business serving all manner of handmade treats. Sea salt chocolate and butter fudge for mom and dad, peppermint sticks, jawbreakers and jellies for the brats. The one-room shop sits a block from her school, I wonder if this is where Pigtails' lunch money is laundered. Was that ketchup or a lollipop mustache staining her face when I picked her up from school last week?
Without a doubt, the #1 treat people return for is the gourmet marshmallow.
If your only experience with the sticky pillows is burnt Kraft Jet Puff mashed between grahams and a slab of Hershey, we're talking Ford Pinto vs. Porsche.
I sat down with the owner, Tom, to learn how he got started and find out if nicotine's the secret ingredient that hooks us on the toasted coconut. His four kids attend the same school as Pigtails, they wander in each evening to help bake fresh batches of candy that will be sold the next day.
Like Martha Stewart, it all began in the kitchen. Tom used to cook up troughs of marshmallows for neighborhood block parties and BBQ cookouts. Friends squawked for more, he began giving them as gifts, then offered them for sale from his home.
The transition from hobby to business happened one snowy Christmas. Friends were wielding pitchforks and torches, begging for more sugar. He said the influx of orders that holiday was high enough to nearly kiss the ceiling and cover his Christmas tree.
A Blimpie sandwich shop went belly up along the main Beaverdale strip. Tom decided to take the plunge, leased the vacant nook, added new flavors of marshmallows and spooled up homemade fudge, truffles and salty pecan rolls.
Online business is where it's at, this spring he shipped 500 bricks of marshmallows to a Google employee promotion. And dozens of boxes to another geekfest in Santa Clara Valley @Cali'.
I asked how companies 1,800 miles to our left know about humble little Beaverdale. He confirmed only a few bakers in the U.S. cut high quality marshies, and word travels fast by 'net.
If you'd like to try a set, a plump pack of Beaverdale 'mellows will be offered in the upcoming B&P Bento Box. I photoed a new batch last night, little 5-finger-discount made them be gone in minutes.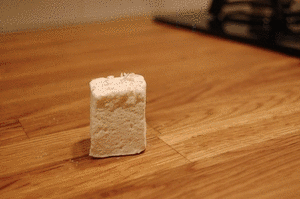 -Beard